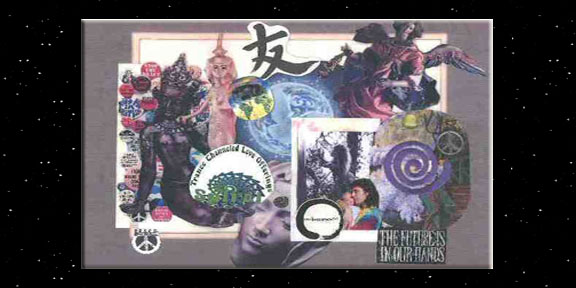 Spiral on... muse..
cross cultural - all ages of man-woman kind
universal symbol used throughout time
nomadic tribal traveling

movement of water
organic essence
space nebulas to tiny strands of DNA
3D map of time - path's journey
spiritual awakening.. transformation of consciousness
isness space... silences between thoughts

Emptied out and hollowed
Opened up like a zero
A miraculous miracle
abundantly available
birth of invention

better and better
Spiral Intention

Rebirth forever.


Some of this poem can be found as lyrics on the all 3 CD's.


The Spiral on... Muse.. story.....
Aliah Selah's multiple endeavors are synthesized by her philosophy:

"It's about being able to spiral on..
especially when times get hard -
She smiles, laughs a little, and says:
"the *gratitude loop hole is what get me through it every time
- you know.. being "everglad". (one of the Spiral songs that talks about
making the best of whatever happens and appreciating everything.)
Then she gets really into it and says,
"That's when the best creative wave is about to break,
some get discouraged and even give up before it gets to happen,
others learn to spiral on..."
So what's up with spirals anyway?

"It began with getting pregnant.."
Aliah begins talking much more softly,
"you know evolution was really happening inside of me
& we've been spiraling every since..
That's why Paz & I say, spiral on..
not spiral up or down... it's about catching each wave and
"surfin' on a waterfall" (another Spiral song) as it's happening.
Spirals became symbolic to us, for cycles of transformation..
we're all just growing up, one moment at a time.. we need to be kind with ourselves
and then we can be kinder to everyone else - peace is the ultimate high!"

Through all her transformations what matters most to Aliah Selah
is keeping her art sacred & honest,
as an offering to those who resonate with it..
"a springboard to spiral on.."

Spiral on... is band that's continually evolving -
currently we are transforming into a jam band Trance Dance experience...
These 3 CD's will be used between segments
on our new Web/Show:
CREATIVE EVOLUTION

SPIRAL ON HOMEWORLD
SPIRAL ON... ZOOM POP!
SPIRAL ON... WE HERE NOW

THE NEXT CD TO COME IS:
SPIRAL ON... ISNESS

spiral on... isness poem

Can you say ISFEST?