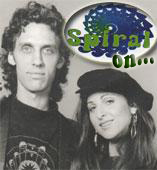 Overview:
SPIRAL was formed in Austin, Texas in 1996 with Aliah Selah (Clar Rheinstein) on vocals, sax, keys & Paz Rheinstein on vocals, guitar, bass, & flute - as it's core writers. The couple trademarked SPIRAL after playing professionally as TOUCH (in Boston) & SOULER SYSTEM (San Diego & Austin) that played in festivals, clubs, and parties around San Diego and then Austin. In each place they lived they did lots of benefits & Earth Day Celebrations and in Austin they were also well known for their Video Art & Activism TV show Trippin' In Austin sponsored by Pace Concerts. The weekly show continued featuring many local & national artists, musicians, poets and activists and using their video art pads with their music between and as visuals behind acts when they played or gave interviews. They added SXSW Specials: SOTV & GIRLGROOVE - all these shows documented their evolution from SOULER SYSTEM to SPRIAL They went back to San Diego as SPIRAL as Aliah played lots of gigs with Paz doing her solo songs - and then up to the Bay Area where they live now. Many things are starting to come together... in the magical town of Santa Cruz where they recorded the 12/12/12 CD Release - Spiral on... WE HERE NOW with amazing bassist Dan Robbins. Aliah is now going Modal Jazz with her solo music because this CD helped her see that's what she loves... and
together Paz and Aliah continue to grow... as musicians with a vision for music that takes you on a sojourn - for those who have chosen to SPIRAL ON.... and on... and on... to peace.

Background:
After playing in Boston on the streets of Harvards Square, in Cafes, and on WERS to promote the Cabridge Earth Day Festival - they decided to move back to Sunny San Diego and played EarthFair in Balboa Park as TOUCH soon after their arrival. They played EARTHFAIR the next year as SOULER SYSTEM - with a full band and 2 dancer and were featured in Vision Magazine. They played San Diego Fair (Del Mar Fair) and The Whole Being Weekend (where they played again as SPIRAL.) They also had a regular night at the Betterworld Galleria where they had a solar electric car parked in front on the nights they played there. There they had regular nights at the Exotic Bamboo & MIracle Cafe in the San Diego area. Then they moved to Austin, Texas for the music scene & ending up making TV, offering exposure to all their musician, poets, and artist friends & always offered a voice to good causes and had a flashback of the old Kung Fu somewhere in the mix.

.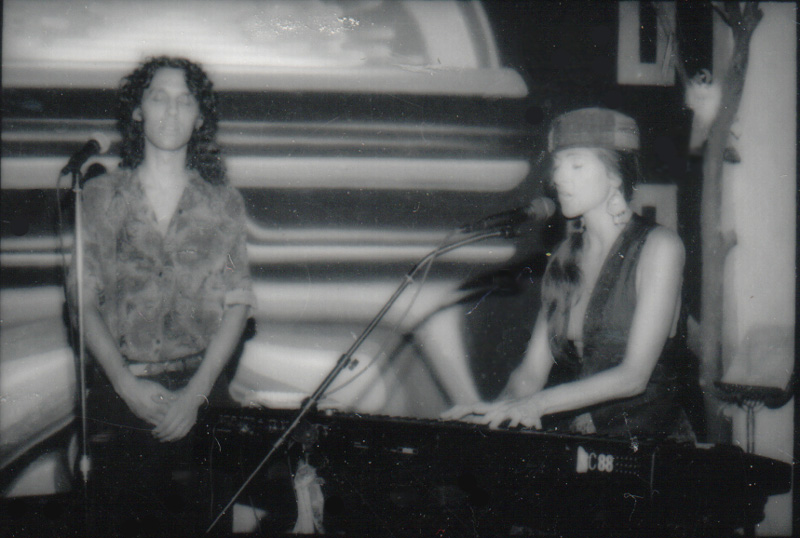 SPIRAL playin' Austin's 1st Internet Cafe: The Incubator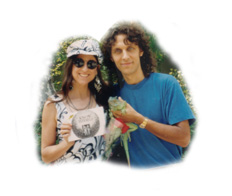 Paz, Aliah, & Fana The Iguana
hosts of Trippin' In Austin
view by over 50.000
in Austin, Texas

Paz Rheinstien is known for his AstroReports and also being the host of P.E.A.C.E.
(Planet Earth Alignment for Creative Evolution) that grew into a non-profit Peacefarm Producations -
recieving several grants for instructional wellness videos.

Paz is the main inspiration for the Sacred Jams... of Spiral on...
He grew up around music with his Mom a Classical pianist. He's a classical and Jazz flute player who can play
Jethro Tull like riffs... and has played slammin' flute solos on stage with Vallejo. (As seen below.)
He feels the music so deeply - bringing people into the zone.

He's also Bass player - playing stand up and 5 string,
yet mostly he plays his Guitar with a sound inspired by Jimi Hedrix.
A unique bluesy style that's best heard in a Spiral on.. jam.. taking us on a journey.
(Or check out our - jam in a 5 minutes song: "Surfin On A Waterfall")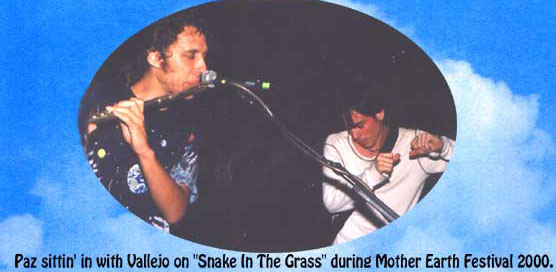 The Austin line-up of SPIRAL included some wonderful musicians in the Austin scene -
check out Mercury gig to see photos of these players:

Terry Dossey on blazin' southern rock Guitar as well as one of the band's co-songwriters.
The songs he produced started as SPIRAL songs - until SPIRAL went Jam Band and now has become Spiral on...
so that material is now called Livin' In The Shade - a solo CD for Aliah Selah.

Justin Gray, an amazing Bassist (who co-wrote 2 songs on Aliah solo CD Shades Of Images - "Dig Deep" & "What Is So?") rounded out the overall southern rock sound of the Austin SPIRAL, adding a "fusion with an edge" like sound,

Mark Bergen on B-3 organ who is the star writer and featured soloist of the song "Everglad".

Michael Owens on Drums who's long blond dreads would fly, as he added a variety of tribal beats
& strait up funk to the live shows of this groovy funk rock fusion band who also offer to take their audiences on a journey...
that can get ambient & introspective & then come back with a locked in groove once again.

Others came through at different points as well...like at the very exciting Mercury gig -
when we subbed with Daniel Jones on drums - another wild man drummer... with a big heart.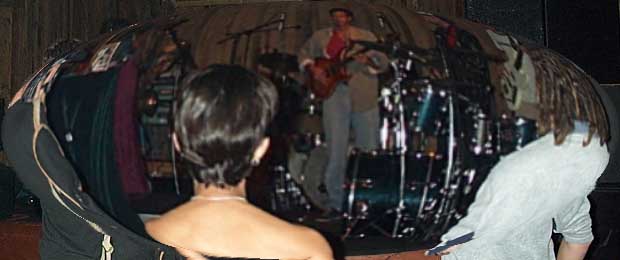 FROM SPIRAL TO SPIRAL ON....
More than a band... it's a call to action!
Now more than ever the world needs us all to be focusing even more
on positive change & how together we can all - Spiral on... to peace.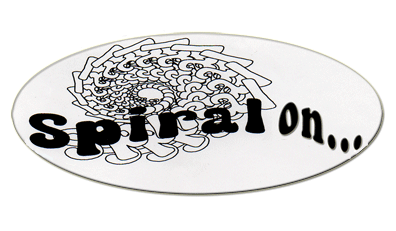 Spiral on... 3 Sacred Jam CD'S with Video Art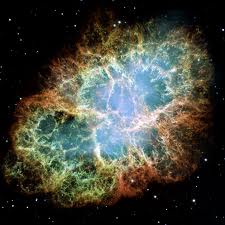 Aliah's song "Little Shelf" - is a spoken word & sung channeled song about going beyond the mind... to peace. It was birthed from a jam after a long day of recording her first solo CD Acoustic Perfume - it became the opening song of her second CD - Shades Of Images. A magical song that has only "one takes" on it. Producer Mitch Watkins agreed it was special and talked about how easily "Little Shelf" was birthed. "I did one pass of Emu Guitar - and then Aliah did just one take of spoken & sung vocals... and it was done." (
Hear
it here.)
(Also, check out "Surfin' On A Waterfall" for Paz's unique guitar solo.)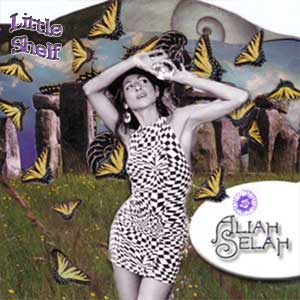 "Little Shelf" was unlike the rest of her "radio ready" songs... and many people wondered why she put it on her CD at all - let alone to open the SHADES OF IMIAGES CD with it. She simply says, "It sets the mood & smiles mysteriously. It is the most like the SPIRAL ON... material - sculpted jams that glide into each next song - like the well loved CD - DARK SIDE OF THE MOON or YES SONGS- music that had influenced Paz & Aliah a great deal. Recently, the couple gave a Creative Evolutionary Award to Jon Andersen of YES and videoed his extraordinary solo show that came to Santa Cruz... and you will see that on the new show as he is honored for his "positive use of the media".

You can hear the influence of YES and Pink Floyd in the ambient down-tempo song "Little Shelf" was nominated for a 2007 LA Music Award in Experimental. Then, in 2008 it was nominated for a Hollywood Music Award in the Ambient/New Age Category.


More recently, as a Qi Gong Instructor & yoga teacher with life time of contemporary dance - she choreographed a new dance form she calls: Sacred Sign Dancing Qi Gong - and she is videotaping it in Nature for music videos that are set to be in a film project:
www.cocreating.us
Aliah felt because "Little Shelf" was being appreciated - it was time to focus on the SPIRAL JAM recordings... where just like "Little Shelf" she shared sung & spoken word trance jam vocals.

So on 9/9/9, Aliah & Paz planned to put out their first CD on 10/10/10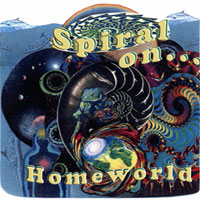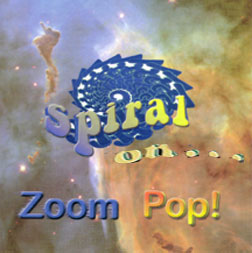 was then released on 11/11/11.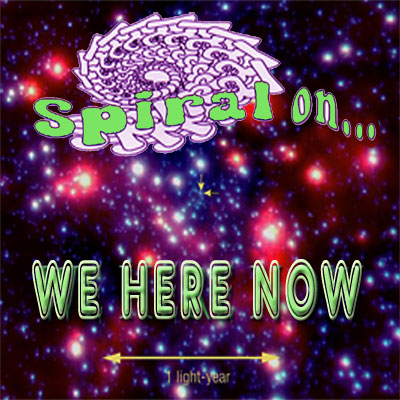 Now for 12/12/12 they found some amazing Santa Cruz players and did another sacred ceremonial awe inspired ambient soundscape recording for a CD that leads to funky dance grooves & then back to ambient - for a full spectrum journey -
a sonicvibe experience with visuals.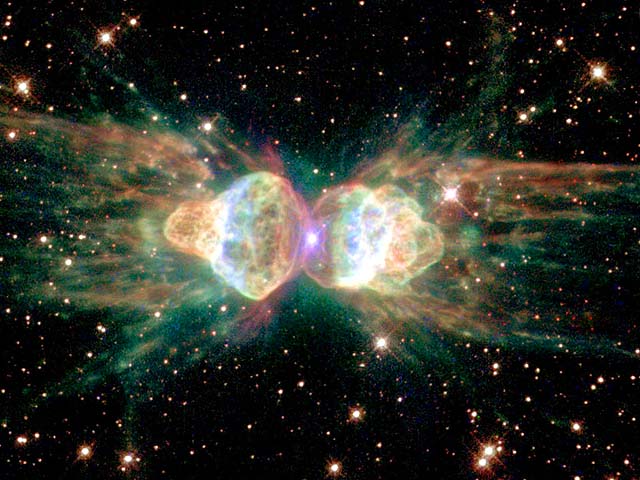 A BAND WHO MAKES A TV SHOW?

Aliah recalls what got her & Paz started doing TV...
"We saw that everyone was so talented in Austin yet pretty much starved for & living on only bread crumbs of exposure. We had just made a music video of our band SOULER SYSTEM before we left San Diego and loved doing it. When we found out about the amazing ACTV station... we learned all the equipment and started baking loaves of "Exposure" Bread on our shows and handing it out to all the amazing visionary musicians, Poets, & Artists of all kinds - and combined it with all those in Austin who are Earth & Peace activists and positive. We had watched & recorded every one of the old Kung Fu series... before it came out on CD. We studied the many amazing directors who made their mark in this awe inspiring series. Watching the old Kung Fu series brought together making TV & studying the Tao for us both. We now see it was training for parenthood... how the monk raised such a gentle strength of a man - fit well in the Trippin' In Austin format where there was always a Monk flashback moment somewhere in the mix that people told us they would look for. A lot of people were fans of "Grasshopper" as much as we are. Our new show CREATIVE EVOLUTION will also have those flashbacks that we so much love. Doing TV gave us a way to honor people and things we appreciated and give talented people exposure - but more than that... to encourage them to learn technology and have creative control of their music & all aspect of their lives - this was always how we saw success and what continues to give us great joy now."

The Steamboat, where Stevie Ray Vaughan had played himself - became part of their scene. Paz & Aliah played there with their band SOULER SYSTEM and had a regular night at the White Rabbit down 6th Street. Mother Earth Productions asked Paz & Aliah to do blessings at the yearly concert as they grew into becoming SPIRAL. After 10 years of making TV they had a collection of shows: Wake Up & Smell The Incense!, Multi-Media Cafe, Trippin In Austin, and P.E.A.C.E. (that became a Non-Profit that received several video grants to do instructional wellness videos) and they made many SXSW specials each year: SOTV, Girl Groove, that showcased many great bands around town for the big SXSW weekend. Mainly, they focused on the Steamboat, Black Cat, and White Rabbit scene and then The Mercury, also Cafe Mundi, 503 Cafe, & Ruta Maya Cafe, Flipnotics Cafe - EARTHDAY & other Festivals... making a small ripple in the Austin music scenery that they feel honored to have been a part.

ACTV Public Access Station where Robert Rodriguez (Spy Kids) & Richard Linkletter (Dazed & Confused) got started with their film careers. Paz & Aliah were on the air only a month with Trippin In Austin - when Aliah interviewed Sandra Burnhard - then Dave Mathews did an interview where he played a song not on any of his records with Patrice Pike - another local singer songwriter. Trippin' In Austin was sponsored by Pace Concerts (and for the crew Amy's Ice Cream & Conan's Pizza) and they were able to go back stage. Red Dawn who Aliah had met while working in the movie Michael - was backstage at select concerts because Aliah Feng Shuied Dressing Rooms & offered Transparenting Tarot Readings & gave FOODCOOL Kits for good health while touring. They followed events and offered a capella blessings at concerts as well as doing sets with full bands and later Aiiah's solo music that Paz plays with her as well. They find the vibe for the gig and serve the event with the backdrop it needs to serve what is happening at the event... singer songwriter acoustic tunes.. to ambient backgrounds - to slamin' dance groove with visuals. SPIRAL has now become SPIRAL ON.... and they will always surprise you while giving the good vibes they are known for. And pulling in some fine musicians who also know Dreamtime Flow with music as a ceremonial celebration of life. They are sending their love to everyone there and Boston. In time, they will be able to offer Austin & Boston musician friends - places to come play on the west coast with them... slowly as the SPIRAL ON.... energy starts building up again in their new hometown of Santa Cruz.

The whole experience in Austin... playing music and doing the TV Show Trippin' In Austin... got Aliah doing Stand Up Comedy as a Rockaholix - that was really funny when you understand that everyone in Austin she knew was a Rockaholix and proud of it.

Now the idea has birthed into a feature film concept: Rockaholix that will honor many of the Austin Musicians they know & love..and the new Santa Cruz quirky loveable Rockaholix who will be featured. Rockaholix is in pre-production and set to showcase on the new TV WEB Show CREATIVE EVOLUTION to air 11/12 to promote the 12/12/12 WE HERE NOW CELEBRATION happening at Body & Soul Yoga & Healing Arts Center - 738 Chestnut in downtown Santa Cruz.
.


All 3 CD's will be available with visuals and then also edited into music videos - that will be used between segments on CREATIVE EVOLUTION
- the bands new visionary variety Web/TV Show - born out of the magical land of Santa Cruz.
Spiral on...
is matching visual backgrounds of Nature, Space, Sacred Art & Places - for their special brand of VIDEO ART
for all 3 CD's.


12/12/12 WE HERE NOW CELEBRATION
happening at the Santa Cruz Chi Center
211511B East Cliffs Drive - Santa Cruz